Smart Home easily installed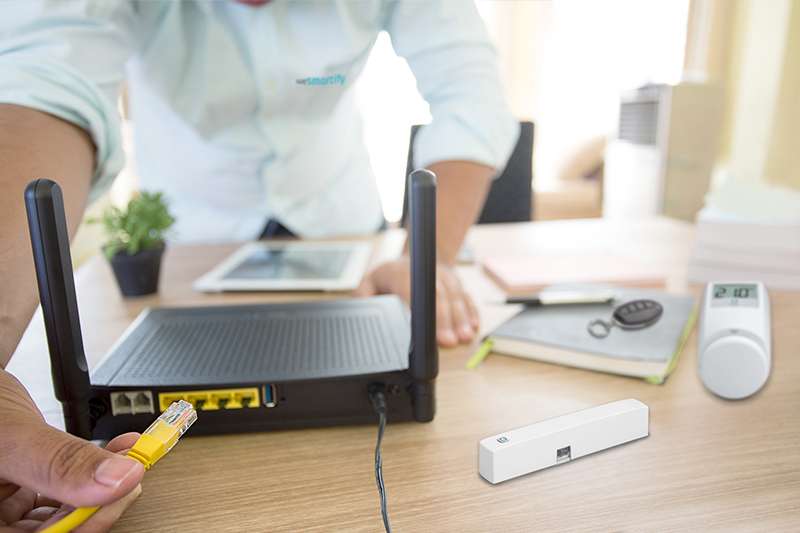 Smart home solution provider wesmartify ensures comprehensive installation service with the tech service platform Mila.
Bad Salzdetfurth, November 8th, 2018 - The smart home packages from wesmartify are designed in such a way that any layperson can network their home without any specialist knowledge. If you still have reservations about the smart technology, help is now available throughout Germany: Owners of a wesmartify system can book inexpensive installation packages via the crowd service platform Mila (www.mila.com) and no longer have to do it themselves.
The smart home solution provider wesmartify has specialized in presenting the advantages of home networking live to interested parties at smart home parties. The wesmartify system is characterized by the fact that it can be installed independently by anyone, without any technical know-how. If you still don't want to deal with the installation, but just want to 'just have it ready', you can now get competent and quick help from Smart Home experts who offer their services on the Mila platform.
With Mila, wesmartify has gained a real innovation driver for installation and support services. With a network of almost 9,000 Mila partners consisting of Mila professionals (companies) and Mila friends (talented, certified private individuals), the service is available nationwide. Under wesmartify.mila.com users easily book an installation package. The Mila partners are extremely flexible, so appointments for professional installation are also available at short notice. Depending on the size, the respective packages include the installation of up to 18 components and start at just 39 euros including travel, installation, commissioning and a brief introduction to the operation of the wesmartify smart home system.
"We are very pleased to be able to make technological progress easier for even more people through our cooperation with wesmartify," says Christian Viatte, CEO of Mila.
"The cooperation with Mila completes wesmartify GmbH's all-round carefree package," comments Björn Nahler, Project Manager Business Development at wesmartify GmbH. "Our customers are particularly impressed by the rapid availability of installation dates, usually within a few days."
The starter packages
With the starter packages from wesmartify, entering the whole world of smart homes is now even easier. The different packages are divided according to the size of the apartment and the desired use. Installation by a Mila Friend is already included in the price. There is no faster way for users to get to their own smart four walls.
Online shop
In addition to direct sales via the Smart Home parties, technology-loving Smart Home fans can also easily purchase the system online at www.wesmartify.de order. If there are any questions after the purchase, the wesmartify service hotline will help on weekdays.
About wesmartify
The decision in favor of a smart home system can be associated with a number of hurdles: an unmanageable number of different providers, complex technical details, installation effort that is difficult to assess, high acquisition costs.
That's why wesmartify has set itself the task of offering an easier way to an intelligent home: through self-explanatory technology and excellent on-site service. Our certified smartifiers are always close by and take care of the all-round carefree package: from the presentation of the wesmartify smart home system in your own four walls to individual advice on planning a personally tailored smart home solution to installation Service.
More information at www.wesmartify.de
About Mila
Mila ( www.mila.com ) was founded in Switzerland in 2013 and relaunched at the end of 2015 with a revised business model. Mila is a mediation platform for technical help - for all problems relating to the installation or use of technical products. People or companies who have the relevant knowledge are easily referred to those seeking help via a website or app. The almost 9,000 Mila Profis and Mila Friends consist of professional companies as well as qualified students, pensioners or career changers who currently process more than 10,000 orders per month. Well-known cooperation partners, including Conrad Electronics, Innogy and Samsung, already rely on Mila's service. The main investor of the platform is the Swiss telecom company Swisscom.
press release
Download the press release as a PDF file: