WiFi hot air fryer with pre-programmed recipes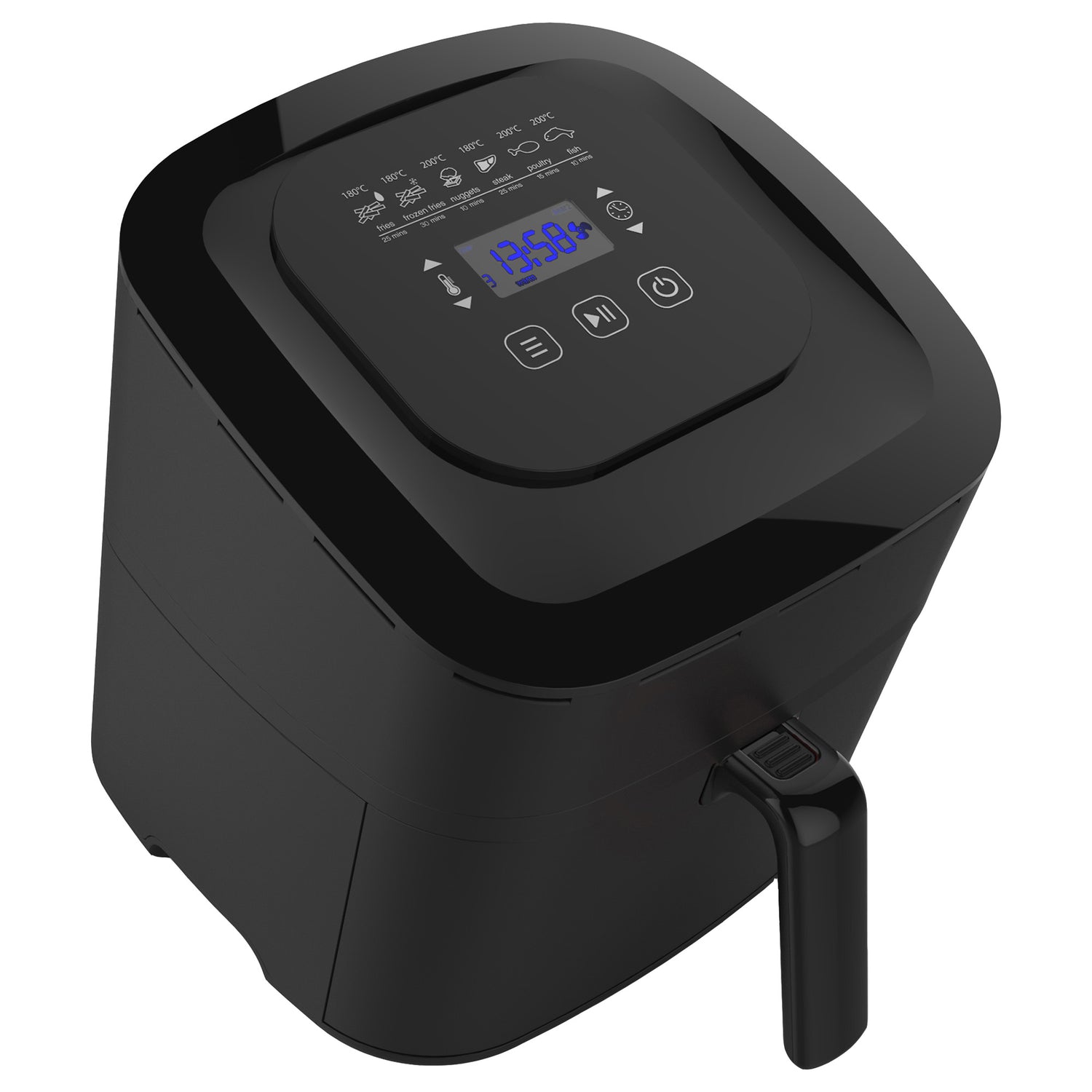 Bad Salzdetfurth, August 18, 2022 - With the new es Smart Cooking 5.5 l hot air fryer, wesmartify is bringing smart technology into the kitchen. In the accompanying essentials app, hobby cooks will find over 100 pre-programmed recipes that are guaranteed to succeed thanks to the step-by-step instructions. The technical data of the TÜV-certified device are also convincing: a large cooking chamber of 5.5 liters meets 1,800 watts of heating power. In addition, there are the general advantages of a hot air fryer: delicious cooking results without the use of oil, faster cooking times compared to the oven, preparation that preserves vitamins and a wide range of uses. The retail price is 119.95 euros.
All-rounder with guided cooking function
Cooking vegetables, preparing casseroles, baking muffins: Hot air fryers work like mini ovens and do a lot more than just fry chips or chicken wings low in fat. In order to make food preparation easier, wesmartify has also equipped its new 5.5 l Smart Cooking hot air fryer with a WLAN function: if you have no recipe ideas or are a complete novice when it comes to cooking, you can log into the free essentials Smart after starting up the hot air fryer Home app and browse the online recipe collection. The recipes are explained in detail and the cooking process is started simply by clicking in the app. The fryer then automatically sets the right temperature and time for the recipe and, thanks to 1,800 watts of power and optimized air circulation, conjures up perfect cooking results. In the meantime, the amateur chef can pursue other activities – the smartphone sends him a push message when the food has been prepared.
Share recipes with other users
The online collection of recipes is constantly growing – also because users of the hot air fryer can store their favorite recipes in the app and then share them with others via the cloud. Also possible: Creating your own recipe favorites or recipe lists.
Simple control panel on the device
Of course, the hot air fryer can also be used conventionally without an app. The device is equipped with a self-explanatory control panel with an LED display, which can be used to enter individual cooking times and temperatures and to activate six pre-programmed cooking programs (e.g. for meat and fish).
Advantages of an air fryer
While in conventional deep fryers mainly starchy foods (e.g. French fries, donuts) are bathed in a large amount of hot oil, the hot air deep fryer prepares any food - including cakes, vegetables or casseroles - low in calories and preserving vitamins solely by supplying hot air. The hot air fryer is also a step ahead of the oven: it shortens cooking times, which saves energy. In addition, cleaning the device is simplified because you can work completely without oil. With the es Smart Cooking hot air fryer 5.5 l, the entire cooking basket can be removed with a flick of the wrist and then easily cleaned in the dishwasher.
Large cooking space
The cooking chamber of the es Smart Cooking hot air fryer 5.5 l (dimensions: 22 cm * 23.5 cm * 11 cm) offers enough space for a family meal: The cooking basket fits e.g. B. six rolls, fries as a side dish for four to five people or four chicken thighs.

es Smart Cooking hot air fryer 5.5 l with large cooking space
PFOA free
The es Smart Cooking hot air fryer 5.5 l has a non-stick coating that does not contain the harmful perfluorooctanoic acid (PFOA).
key data
es Smart Cooking hot air fryer 5.5 l
available through the wesmartify online shop,
es Smart Cooking hot air fryer 5.5l
RRP: €119.95 incl. VAT
product video
Test devices for editorial offices
Are you interested in trying out the es Smart Cooking hot air fryer 5.5 l for yourself? Then please send us a message at presse@wesmartify.de !
About wesmartify
The decision in favor of a smart home system can be associated with a number of hurdles: an unmanageable number of different providers, complex technical details, installation effort that is difficult to assess, high acquisition costs. That's why wesmartify has set itself the task of offering an easier way to an intelligent home: through self-explanatory technology and excellent on-site service. Since 2019, wesmartify has been selling smart home products for beginners with its own brand essentials. In the same year, the company took third place in the SmartHome Deutschland Award in the "Best Start-Up" category. In April 2021 and April 2022 wesmartify.de was awarded as the best online shop in the Smart Home category. The survey was carried out by the Cologne analysis house ServiceValue in cooperation with DEUTSCHLAND TEST, a brand of the business magazine Focus Money.
More information at www.wesmartify.de
press release
Download the press release as a PDF file: