Cold feet while sitting? A mini fan heater can help you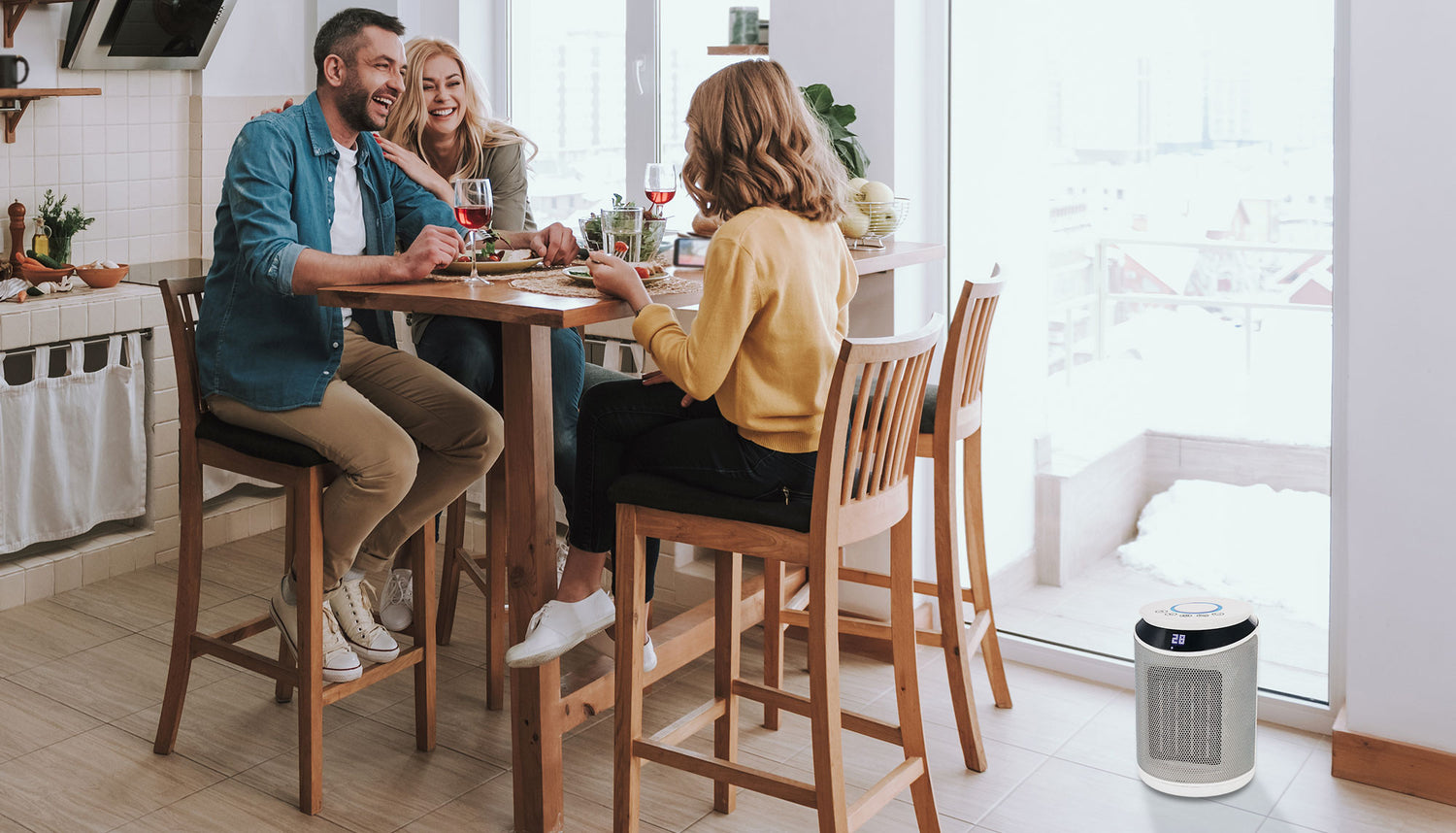 You can use mini fan heaters wherever there is a socket. Just plug it in and direct the warming air to your feet! Fan heaters with a smart home function, which you can program as you wish, are particularly practical.
Are you already wearing thick socks and yet your feet cool down as soon as you sit down? Don't worry, you're not the only one with this problem. Now there are all sorts of clever tips on home remedies that are supposed to help against cold feet - from massages and gymnastics to blood circulation-boosting drinks or creams. But honestly, who wants to start massaging their feet in the office? Or cream your feet with some kind of preparations at home while sitting in a relaxed atmosphere with friends?
Mini fan heater warms feet instantly
The simplest solution for warm feet is a mini fan heater that is placed in front of or next to your feet and provides pleasant warmth. The small heat dispensers are now available in all kinds of designs. When purchasing, you should pay attention to the following six criteria:
1. Size and weight of the fan heater
If you want to use the fan heater in different places or place it discreetly under the table, then it should be really small and handy. As a rule of thumb, it should fit in a bag and weigh less than 2 kilograms.
2. Power of the heater fan
If you want to have warm feet quickly, then you need a mini fan heater with a boost function. That means: a fan heater with high power consumption. A device with only 500 watts of heating power will not make you happy. Devices that offer you 2,000 watts of heating power are better. Although these cost a little more than low-performance devices, they also bring the extra heat kick.
3. Temperature sensor
Make sure that the mini fan heater is equipped with a temperature sensor. This is the only way to ensure that the device keeps the temperature you want constant.
4. Ceramic heating element
Before you buy, check whether a simple resistance wire or a high-quality ceramic is used as the heating element in the mini fan heater. A big plus of the ceramic: the fan heater does not develop an unpleasant smell of burnt material, as is often the case with fan heaters with resistance wire.
5. Pan function (oscillation)
Fan heaters with a swivel function (also called oscillation) are particularly convenient. When swivel mode is activated, the fan rotates from left to right, distributing heat evenly to both feet. Fan heaters without a swivel function only blow the heat to a single point.
6. Smart home function
The icing on the cake is a smart home function integrated into the mini fan heater. You can also integrate smart mini fan heaters into your home WLAN and program and operate them using your smartphone. It works as follows: You download the app that goes with the mini fan heater, add the device to the app and store temperature and time profiles.
A concrete example: Suppose your fan heater is in the home office. Then you can store in the app that the device generates a constant heat of 23 degrees from Monday to Friday, from 8 a.m. to 12 p.m. and 1 p.m. to 5 p.m. (ie: exactly at the times when you are sitting at your desk). Once programmed, the device turns itself on and off. Alternatively, you can do without this programming and switch the device on and off conveniently with your smartphone as required, thus avoiding the annoying crawling around under the table.
Discover the Smart Home fan heater Compact from essentials.
Spend another €85,00 and get free shipping!