Live more safely with a smart home alarm system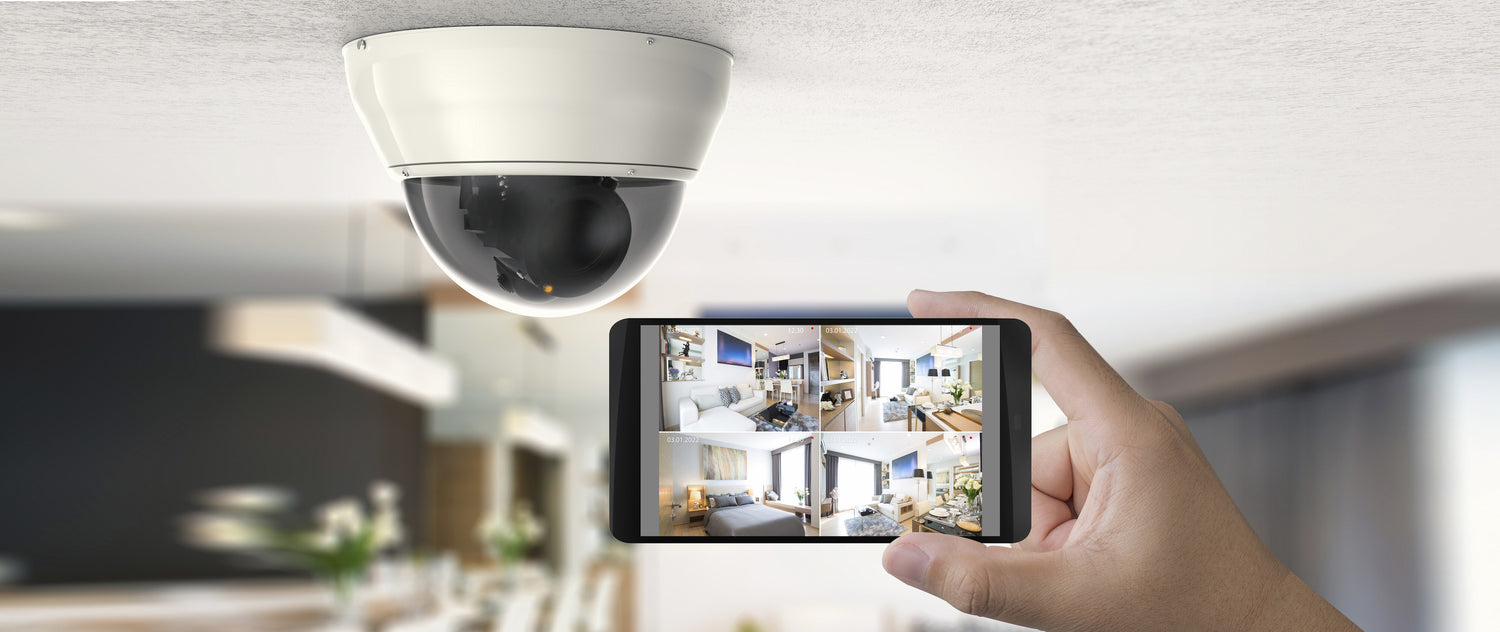 The number of burglaries in Germany is falling significantly. This is ensured not least by modern security technology such as a smart home alarm system and intelligent security components. In this article you can read why their installation makes sense right now, what you need to consider before and after the purchase, and which devices additionally increase security.
Burglaries - the material damage is not the worst
Safety and feeling safe are two different things. Most people feel safe and secure in their own homes. Because of this feeling, they often do without special measures and precautions that serve to ensure safety. Sometimes that's fine. But what if something does happen? What if a burglar manages to get into the house or apartment? It's not just about material damage from stolen valuables or destroyed doors and living spaces, but above all about the emotional damage that such a burglary leaves behind. With electronic devices such as laptops or cameras, valuable family photos and important personal data are often lost. This emotional loss is often much worse than the material one! In addition, a burglary is always a massive invasion of a victim's privacy – and it leaves mental traces. This could be easily avoided: with a modern smart home alarm system.
Why is modern safety technology so important nowadays?
Let's take a quick look at the crime statistics as the basis of the data: At first glance, the numbers seem rather reassuring. The registered burglaries in Germany fell again significantly in 2017. The police were able to record a total of 116,540 attempted and completed burglaries. In 2016 there were still 151,265. That is almost 23 percent less.
The number of burglaries has declined for the first time in the last two years. The reason for this is the better security technology that deters or stops burglars.
This is not due to the burglars' waning interest, but rather to the house and apartment owners who actively protect themselves from attacks with modern security technology. A generally strong increase in demand for mechanical and electronic security measures was also confirmed in this context Federal Association of the Security Industry (BDSW). Security technology and alarm systems actually have a positive effect. But what is the best thing to get? A classic alarm system perhaps?
What is the use of conventional alarm systems?
You may have seen the outdoor siren of wireless alarm systems on the facade of secured houses. This is a component of a "good old" alarm system that is not intelligently networked. It is used to deter burglars. The problem with this: This type of alarm system warns when it is actually already too late and the break-in has already happened. By then grandma's gold jewelery may have long since been on new fingers or doors, windows and furnishings are badly damaged - and the perpetrators have probably long since left the mountains. Classic alarm systems therefore have little preventive effect. Wouldn't it be better to do nothing and rely on other "security concepts" that have proven their worth in Hollywood, for example?
Well, lying in wait yourself to deter thieves might not be the best idea. Especially since it's pretty dangerous. Setting up a smart home alarm system is more worthwhile. It is already noticeable when burglars even try to get into the house. Or when they just enter the garden, the basement exit or the driveway. In addition, a smart home alarm system has numerous options for seamlessly integrating additional security components. House and apartment owners can use this to have real-time images sent from home to their smartphones or even speak to the intruder directly (e.g. via a two-way audio system). Anyone who is caught in this way usually quickly flees.
What does a smart home alarm system offer?
Modern alarm systems combine many of the security components already mentioned into a comprehensive system. These safety systems can be put together individually and supplemented with additional modules over time. A prerequisite for a smart home alarm system is usually a central unit that networks all the individual parts with each other.
Ideally, it can be connected to the smartphone via an app and alerts residents to irregularities in their home. If the worst comes to the worst, they not only prove the crime with the help of videos, but also drive away burglars before they can become active - with light or noise. With some smart security systems, with the appropriate camera equipment, you can even observe live what is going on in your apartment at any time.
You should also pay attention to this: Smart systems must be flexibly expandable with numerous modules and components. These include, for example, smoke detectors and water detectors, which you may want to integrate later. And of course it would be nice if you didn't have to have studied security and network engineering to install them properly.
Smart additional components for even more security
As already described, there are many other components in addition to the actual alarm system that can increase security in your home. These include window and door sensors, surveillance cameras, some of which are also available with night vision, presence simulations such as timers for lights and TV, motion detectors for inside and outside, but also automatically controlled blinds and smart access systems.
There are practical starter sets that work according to a simple "plug and play principle" and contain preconfigured components. Here, too, the basis for operation is a central unit, via which all individual elements are networked with one another.
What can smart security systems do that classic ones cannot?
Classic alarm systems hardly keep a well-versed burglar from committing a crime. They do not give timely warning of a burglary taking place. This is exactly where smart home alarm systems score! A few of their advantages:
Push notifications on the smartphone for unwanted visitors
Once door handles, locks or windows in the smart home are equipped with sensors, a notification is immediately sent to the smartphone if someone tampers with the entrances. This is ensured by the optical sensors and smart twist grips. They recognize whether windows are open or closed. If an unauthorized person opens it, the system immediately triggers an alarm and the owner receives a push message via their smart home app. He can react immediately and call the police.
An additional extension are motion detectors in the house. As soon as you leave the house, you can activate them. They then notice for themselves whether someone is in the house, even though all the occupants are absent. If this is the case, they forward this information to the base station. Depending on the defined scenario, the base can then switch on the lighting in several rooms, ring the doorbell, play back a barking dog or trigger an alarm via a siren. A burglar who suddenly finds himself in a brightly lit house or who is afraid of dogs and sirens changes his mind and leaves the apartment again. And that's what it's ultimately about.
attendance simulators
Where no lights are on, burglars feel at home. Logical consequence to make it as uncomfortable as possible for them? Exactly: SPOT ON! There are smart light switches, actuators and radio-controlled sockets that switch on the light independently or even simulate TV flickering while you are away from home. This mimics the presence of occupants, who usually prefer to avoid burglars.
Protection against intruders from outside is just one sub-discipline that smart home security technology offers you. There are other dangers lurking in the house that you can counter with smart technologies:
Protection against fire and fires
Smart smoke detectors throughout the house that are networked with each other protect you and your family from fire and burns. Especially at night when everyone is asleep and may not immediately notice that there is a fire in the house. Caution: Carbon monoxide is produced in fires and is odorless, so you can't smell it. Even before the fire is properly lit, the carbon monoxide can cause death. Carbon monoxide detectors, which emit an acoustic signal if there is an excessive amount of carbon monoxide in the room, are therefore particularly useful.
It is a well-known fact that smoke detectors are now mandatory in every household. But there are differences here, too: Intelligent smoke detectors interact with the other Smart Home components in your home: Smart roller shutters, e.g. B. goes up throughout the house as soon as a fire is detected. Residents can flee the house more quickly and the fire brigade can also intervene more quickly in extreme cases.
Vital Tip : As long as the red emergency light is on in the smoke detector, it is supplied with electricity. If the red light goes out, the device is not receiving any power and the integrated emergency battery is also empty. High time to change!
Protection from water
It's the ultimate nightmare: you're not at home and a pipe bursts. The apartment is under water and trouble is inevitable. In the smart home there are also detectors for water from defective pipes or other types of flooding. In this way, the very worst can be prevented in good time.
Video surveillance inside
Of course, nobody wants to be monitored around the clock in their private rooms. But in some cases a video camera is worth its weight in gold, e.g. B. to see if the baby is sleeping peacefully, what the dog is up to and if even the darkest corners of the house are safe.
With regular updates, the smart home remains secure over the long term
Most burglars are opportunistic thieves: a tilted window, an open garage, an unlocked door are welcome invitations for them. House and apartment owners have to be more careful here in order not to give thieves a chance. Smart devices that are connected to the smartphone via a control center can help.
However, what if the smartphone is stolen or lost? Or are burglars trying to hack the smart home network? As with any system that is software based and has internet access, data backup and regular updates are a top priority as a citizen. The latter in particular closes possible security gaps. Don't forget your WiFi router, smartphones, PCs and tablets. It should go without saying that personal data should never be disclosed. Then no third party will know when someone is at home and when not. We also recommend that you encrypt your device communication with AES-128 bit and restrict access to a large extent. Optimal are systems to which you can assign access (e.g. within the family) individually and, if the worst comes to the worst, withdraw it again. Oh yes, and passwords that are not called "mami75" or "123456" but are a bit more complex certainly don't hurt either.
Want to make your home safer but don't know where to start? Our Smartifier will be happy to help you. Simply book one of our smart home parties and get comprehensive advice on the subject of security and smart home alarm systems.
citation
Spend another €85,00 and get free shipping!